*This post may contain affiliate links.
This really wasn't supposed to be today's crafty lesson. The paint on the other lesson was taking WAY too long to dry, so we had to move right along… I really should have done all of these lessons LAST week. Lesson learned! Be more organized! Now you know why today's post is so late… Sorry!
Tommy has been writing letters back and forth with Emily's little girl, Adah. It was important to both Emily and I that our children learn to write letters and have pen pals, so this worked out great. These two hilarious little kids have been writing letters to each other for quite a few months now, so I thought it was time to explain to Tommy what exactly happens to the letters he sends to Adah.
The supplies we used were:
First we began by writing a letter. As soon as the letter came to an end, I asked Tommy "Where do you think this letter will go? How will it get to Adah?" He replied "Francis (our mail lady) will take it to her." I went on to explain that while, yes, our mail lady will take it from our home, it will take a process to take to Adah that our mail lady isn't involved in. Whether riding in a truck or on a plane, it has to get across the country some how. Once it arrives there it has to be sorted and take a couple other short rides before Adah's mail person delivers it to her house.
As we were discussing this, we cut the letter into strips. Taping each strip to each other, we made one long strip of paper.
With the strip we created a scroll by winding the strip of paper up around one pipe cleaner.
Once the scroll was created, we made a belly, head, arms, and legs for our little mail man, and then attached it all together by just winding the ends of pipe cleaner around another pipe cleaner.
Once all of that was done, we topped it off by inserting a pom pom into the head piece for a face and then gluing on some eyes.
Before going into a (rather LARGE) envelope for Adah, our little guy made his way around the house on a little toy truck. Now our mail man is off and on his way to Adah, where he will deliver the letter Tommy wrote for her.
Be sure to visit the other 90 bloggers on the Schoolhouse Review Crew participating in this blog hop by clicking the image below. Thanks for stopping by!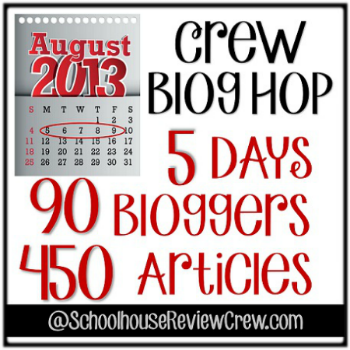 Psst… Don't forget to head over and enter the Back To Homeschool giveaway and enter for your chance to win!