cha·os [key-os] noun
1. a state of utter confusion or disorder; a total lack of organization or order.
2. any confused, disorderly mass: a chaos of meaningless phrases.
3. the infinity of space or formless matter supposed to have preceded the existence of the ordered universe.
4. ( initial capital letter ) the personification of this in any of several ancient Greek myths.
5. Obsolete . a chasm or abyss.
It's been one of those weeks years.
Some people have busy days. We've had a year full of chaos. By chaos, I don't mean that it's all bad. I just mean that it's more than busy. Waaaay more than busy. You know, that whole "utter confusion or disorder and total lack of organization" thing listed at the top? Yeah. That.
I had surgery. Both of my parents took turns having a couple of surgeries each. My Mom faced stage 4 colon cancer & chemo and beat it on the head. There's been all kinds of health issues for every family member. Running here, dodging there, hosting parties, holidays… add in all the normal stuff, and way too many things are getting over looked or completely forgotten.
This last month has probably brought the most chaos of all. Every time I thought "Okay, tomorrow we'll get back on track" the next day would bring something new to face head on. We've had 4 separate illnesses go through our house in the last month. FOUR! How? I don't know. Well, I do know 2 of them were from friends who were sick. But the others? No idea how we even contracted them.
Becoming overwhelmed was way too easy. Sometimes it was easy to forget what was important. But you know what? We've survived, we've thrived, and we've learned how to stand together against anything.
Most of all, I've grown to depend on Jesus more and more through it all.
Thankfully, I've learned some new ways to manage and organize some of the craziness. The rest of this week I'll be sharing some of those tools and tricks I've picked up along this interesting journey. I in no way claim to have it all together, and were you to show up at my home unexpectedly, you would clearly see that. There are still some areas of my life I haven't even begun to figure out how to reign in. I have, however, learned to control the majority of it all and keep my head together.
So, this is C is for Chaos week instead of day. How's that for blogging through the alphabet? 😉
If you're following Raising Sticky Hands To Heaven on Facebook, you may have seen my status yesterday about praising God in spite of my day. (Kind of the point of this whole blog, isn't it?) I shared a little chorus that I've had on my heart the last few days. In the closing of this post today, I'd like to share it again, as it is truly the song of my heart right now. (I hate to post lyrics without writer's credits, but I can't find them. If you know who wrote this song, please let me know so I can credit them…)
Wherever I am I'll praise him, Whenever I can I'll praise him; For his love surrounds me like the sea, I'll praise the name of Jesus, lift up the name of Jesus; For the name of Jesus lifted me.
 Be sure to head over to Ben and Me to see all the other Blogging through the Alphabet posts!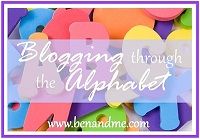 (And yes, I know I missed the letter B. Like I said, it's been chaotic. I was going to write about birthdays, so below are some photos from the 2 birthday parties we hosted in the last month. The first was my Dad's 60th surprise birthday party. I had so much fun planning and hosting this party! The second was Tommy's 5th birthday party with a Star Wars theme. It was fun too, but let's just say hosting 2 parties in less than 2 weeks wore me out! Once again… Chaos… Haha!)