About a month ago, a week or two after we began using Bible Study Guide For All Ages to review the Beginner Level Student Pages, Beginner Level Time Line, and the Children's Song CD Set in our homeschool, I had sent my oldest daughter, Becca, and my middle son, Tommy, to church with my parents as I was not feeling well.  When they arrived home, before I had a chance to say anything, Becca went right into telling me how her little brother embarrassed her in Children's Church. My first thought was "Oh no, what did he do…", so with fear I listened her tell me how he interrupted the teacher several times.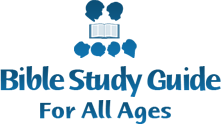 Now, let me be clear that I am not condoning his behavior, and I was still embarrassed. (Melissa, if you're reading this, I'm so sorry!) However, his reason for interrupting was because he was excited that he knew all the details of the story of Joseph that the lesson was detailing. From the Coat of Many Colors all the way up to Joseph becoming Pharaoh. After having a talk with Tommy on how impolite it is to interrupt our teachers, I walked away surprised. "He knows every detail of the story! Every single bit! Wow!"
Intended for ages 3 – Kindergarten, Bible Study Guide For All Ages Beginner Level is a complete Bible Study that covers more than just a simple story with each lesson, but helps your child memorize Books of the Bible, each day of Creation, lineage of the Bible, and more. There is little prep work to be done for each lesson on your part, yet so much material is covered. The most I ever had to do to prepare for a lesson was to cue the songs on the CDs that were to be used that day or find a household object to bring to lesson time with me.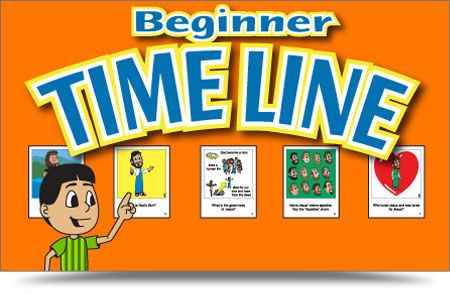 Each day we began by pulling out the student page we would be using. It literally walked me through each step right there, instead of having to jump from place to place to know what needed to be done. First we would go through our Time Line cards that we hung around the room. These are 8 1/2 x 11 card stock pages that go through people and events in the Bible in the order they took place. We went through each of these each day that we did a lesson, adding a new card each day. Next, we would sing a few songs and memory drills along with the Children's Songs CD, go over some memorization and simple questions about things we had already learned, and then I would do a little lesson that was mostly read from the page where I applied the story we were about to learn to present day. Once all of this was done, we jumped right into that days lesson.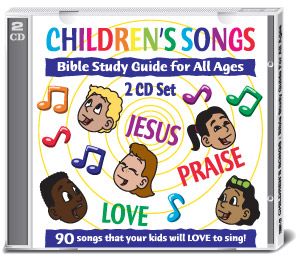 Here is where it got really cool. The lesson is set out as if it were a comic strip, making it easy for little ones to follow along.At this point, I would read the story from the page and at the end of each segment there would be a little instruction for the child to color or mark the photo in one way or another.
At the end of the story, we would flip the page over and do a quick question and answer about what was going on in the photo. One example was a picture of little boy holding a glass behind his back as he told his dad that he didn't know where his lemonade was. The question was if the little boy was lying. (Good luck to you if your child is like mine and quickly colors the glass a light shade of brown to make it Iced Tea so that the boy is not lying about not knowing where the lemonade is… 😉 )
Overall, our family LOVES Bible Study Guide For All Ages and I would highly recommend it to anyone who wants a thorough, Biblical, and easy approach to teaching the Bible to their children.
The Beginner Level Student Pages are $5.95 per unit. (26 lessons, you'll need one for each child.)
The Beginner Level Time Line is $24.95. (You only need to buy this once, and only need one total.)
The Children's Songs CD Set is $19.95. (This will only need to be purchased once as well.)
Click to read more reviews from the Schoolhouse Review Crew, including reviews for products at different age levels.