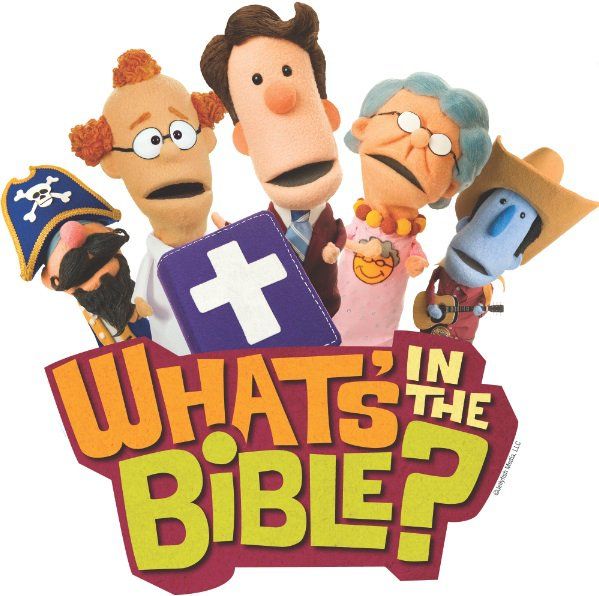 A few weeks ago our homeschool family was selected to review DVD 1 (In The Beginning) in the What's In The Bible? With Buck Denver series.
I've been hearing about this new series from Veggietales creator Phil Vischer for about a year now. I've always been intrigued, but wondered… What could be so great about it? Was it really lined up with God's Word? Would my kids even like it? Well let me tell you, I quickly found out the answer to these questions!
My kids ADORED the DVD. It was similar to Veggietales, but had it's own unique attributes as well. First off, it's not a cartoon but puppets. There is a lot more complexity to it than a simple story with a good moral. This series actually goes into the depth of the Bible, explaining & dissecting  the stories while not dwelling too long on them – which is perfect for a child's attention span. Also included is church history, who wrote the Bible, the books of the Bible, why they are called "Testaments", and much more. The DVD has catchy but educational little songs. All with a little humor here and there! Perfect for my kids!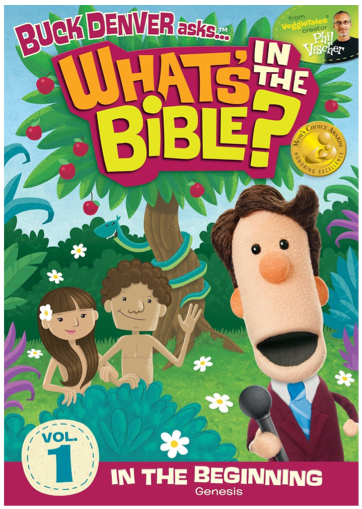 One thing that could bother some, is that the characters do stop to explain with Phil that some subjects are touchy between Christians and some people have different views. (For example: Was the earth created in a literal 6 days or was it 6,000 years.) For our family, that was fine as even my husband and I have different beliefs on some topics in the Bible. It gives our children an understanding as to why Mommy believes one way and Daddy believes wrong another way. 😉 Both my husband and I agreed that it was very in tune with what the Word of God has to say, though.
I was surprised that all of my children, from my 11 year old right down to my 1 year old, were able to sit down, watch this, and thoroughly enjoy it. My 11 & 9 year olds caught more of the humor than the others… or so we thought at first. Ever since, the 4 year old has been cracking jokes from the DVD that we didn't even know he was paying attention to at the time! The baby loves to clap her hands to all of the music and finds all of the puppets interesting to watch.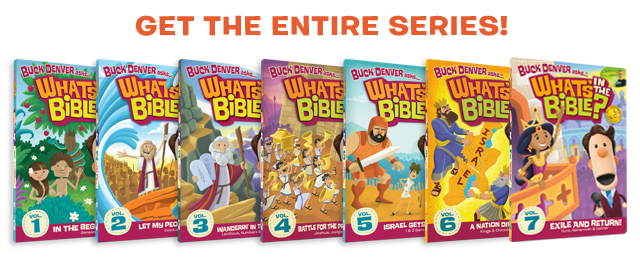 So, would I buy this series? Certainly! As a matter of fact, we've decided to slowly add the rest of the DVDs to our collection and to include them in our homeschool Bible curriculum. The DVD came with a digital download, making it easier for viewing as we use a digital media player also. There are added activities (coloring pages, study guides, crafts, & Bible flashcards) on the website to make teaching along with the series that much simpler.
Have you watched any episodes in the series? What did you think? If not, check out the video below and tell me your view points from that. (And if you're a Disney geek like I am, look at all that cool stuff Phil has in his collection behind where he is sitting. Here's one hint… HARVEY!) Enjoy!
"I was selected for participation in this review and given the What's in the bible DVD as a member of The Homeschool Lounge Review Team. All thoughts and opinions are my own."