By
Angie
Schoolhouse Expo Is Less Than A Week Away!
In case you haven't noticed, I'm rather excited for Schoolhouse Expo next week. As a matter of fact, I've already been making arrangements to attend by rescheduling appointments that would have fallen right in the time frame of attending. It wasn't until today that I realized I didn't have to! All of the sessions are going to be recorded and I can listen to them later if I can't sit in on that exact session. I'm so ditzy, I baffle myself some times…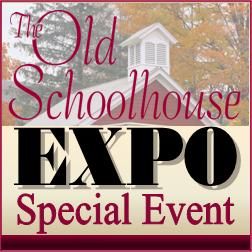 Another reason I am ecstatic is because of the fact that where our family resides in Southern California, there are not a lot of opportunities to attend conventions and seminars about homeschooling. Sure, there are some, but we never have the money to attend the few here and all of the others seem to be on the other side of the country. More and more, I'm beginning to think we live on the wrong coast…
Most of all, this expo is happening at just the right time to get myself in gear. We will be starting school next month, and while it is on my mind and I've began making some notes, I'm not totally ready to begin planning. Folks, I haven't even set our budget or made a list of what exactly we need. I know, I'm really cutting it close with procrastinating this! I believe Schoolhouse Expo is going to be just what I need to get excited and break out the planners, curriculum, and sticky notes and get to planning.
Will you be attending? It's really easy. Like I said before, you can attend online and the cost is really affordable. All you have to do is go to SchoolhouseExpo.com and click on the button that looks just like the photo in this blog to purchase your "seat". The Old Schoolhouse has really made this so very simple and affordable for all of us busy homeschool families. What a blessing they are to all of us! Hope to see you there!
Disclaimer: I was given a free ticket to Schoolhouse Expo in exchange for this post.