*This post may contain affiliate links.
Today is day 4 in our 5 Days of Crafty Lessons series in the 5 Day Summer Blog Hop with the Schoolhouse Review crew. Don't forget to read Days 1, 2, & 3 in our series as well!
There are so many things laying around your house right now that can be used for crafty lessons. Jars, styrofoam peanuts, scraps of fabric, buttons… This list could go on for hours.
Next time you go to through out an old spoon or another household item, stop and ask yourself: "Can I use this in any crafty lessons we will be doing soon?"
When you are walking through the dollar store, check every aisle you walk down: Fake flowers, toy bugs, glue, markers… the list goes on and on.
While making your lesson plans, and you know there are crafty lessons coming up, make notes of items you will need. Fur? Glitter? Pipe cleaners? Scrapbook paper? An old book? You may be amazed with what your imagination gives you to be in need of!
Never limit yourself. But don't go crazy breaking the bank either. Use discount stores, remnant bins at fabric stores, clearance racks, etc. Most crafts are not going to be saved for more than a season, so there is no point in spending a fortune on them.
I hope you have found this series beneficial to your homeschool. It's been a lot of fun to write!
Be sure to visit the other 90 bloggers on the Schoolhouse Review Crew participating in this blog hop by clicking the image below. Thanks for stopping by!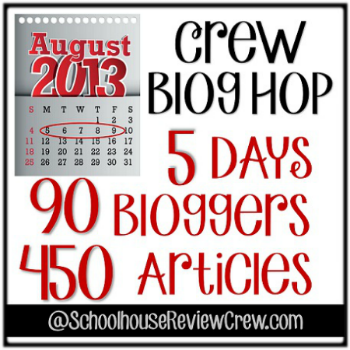 Psst… Don't forget to head over and enter the Back To Homeschool giveaway and enter for your chance to win!