*This post may contain affiliate links
Welcome to the 5 day Summer blog hop with the Schoolhouse Review Crew! It's rather exciting, isn't it? 90 bloggers all sharing their tips, advice, methods, and more for 5 days? I have a feeling Raising Sticky Hands To Heaven's and my personal Pinterest boards are going to be blowing up! For those of you who have never visited our blog before, I'm so glad you're here and hope you'll stick around. (Wow, I promise there was no pun intended there.)
For this blog hop, my topic will be Crafty Lessons. This method comes pretty easily to me, because there are 3 things I just love to do: Talk, teach my children, and crafts. By teaching with crafty lessons I am able to do all 3 of those in our homeschool.
How exactly does one teach with a craft lesson? Well, first, you have to get creative. I usually use this method for something that would be otherwise difficult for my children to grasp. Let's take for example, teaching my children the importance of caution with who they allow to influence them, and the influence they have on others lives. That would normally be nearly impossible to explain to a 5 year old, but I noticed that in his little life this was something he really needed to understand. I was able to teach this lesson to my son Tommy in a way that he would not only fully comprehend, but remember and put into use while having a tangible reminder of the lesson that he learned.
So you have your concept that you need to help your child grasp. How do you use a craft to teach it though? Some of lessons are pretty easy. For example there are a plethora of ways to explain blood cells, planets, or the alphabet with a craft. But some concepts, and even full subjects, are much more complex.
When this happens, there are a few things I do. First I either look at the text book we are using or just go straight to google. I get a visual picture of what I am going to be teaching. (If it is not something physical, I use a dictionary to get a clear definition.) Then I do some research to find out every single detail of what I am dealing with. Crafts can sometimes come out looking not quite right if you don't get the little details just right.
Next, I consider 1 of 2 things. If it is a physical object that is the focus, I make a list of supplies that would have a similar texture to the item. (Never be afraid to just have the child paint or draw a VERY detailed and labeled picture of what you are teaching if it is just going to be way too difficult to match up what you are teaching. While most lessons can be taught with a craft, once in awhile there is something way too difficult or expensive to recreate. That's okay.) An example would be if for some reason I wanted to create a bear. I could use fur, felt, fleece, cotton, etc. For a concept, I would consider what exactly the action of that would be and try to think of a substance or material that could help bring the thought to life.
If at this point I am unable to have an epiphany that causes me to annoy my husband with my wonderful idea and call my mom and best friend to share my excitement, I hit google and pinterest and type in the substance or material I want to use and "craft". Easy peasy.
At craft time, instead of the kids watching me while I explain the lesson, we dive right into the craft. As we are going about our time of fun, I talk… a lot. I explain every detail of not only what they are to do with the supplies before them, but what I am teaching them. I get very repetitive and let them ask me questions, and I ask them questions as well. Just as I love to have discussions with friends as we craft together, my children and I do the same.
This is a great way for my children to learn. They are very hands on, visual, auditory learners. Teaching them with crafty lessons just seems to be a great fit for them, among many other methods.
So just how did I explain the concept of influence? I don't know how to explain it, but tissue paper bleeding just came to me. Tissue paper, especially the cheap low quality kind, bleeds when wet and stains everything it touches. The same goes for the influence of others on us. Not one single person we meet in our lives goes without touching us in some way. It's just that some make more of a difference than others, particularly those we spend a lot of time with.
For this craft, the supplies were:
This fun activity is so easy, a toddler can do it.  The best part is you don't have to worry about a mess being made or taking a lot of time to clean up.
I had the children sit down and gave them each a white piece of card stock. I told them to pretend that this paper was them. Right away, before I got a big "huh?", I had them help me rip the tissue paper into pieces of all different sizes. I explained during this time the meaning of the word "influence". That there are people in our lives, like our pastor who are a good influence on us, for example our pastor. However, there are also friends and family in our lives that as much as we don't like their actions or words that come out of their mouths, they still have an impact on our thoughts, actions, and words. We may not notice it right away, but eventually if we are not careful, the bad influence will start to seep in and do damage. I went on to explain that this damage can be repaired by carefully breaking bad habits and spending more time with those who have good influence, but we should be careful in who we select to spend a lot of time with or look up to.
Next, we started placing one sheet of tissue paper at a time on various places of the card stock, "painting" the water on to the papers. This took about 10 minutes or so and was just enough time for us to talk about how we should not be mean to those who have a bad influence, but should show Christ's love to them. That we should strive to be a good influence to others, especially those who are not always showing such great character traits. I used Acts 20:28 to point out that influence is mentioned in the Bible and that we are instructed to be cautious in our approach with others.  Tommy stated how sad he would be if someone else did something bad because of something he said or did. At that moment, I knew I got through to him.
Acts 20-28a NKJV Therefore take heed to yourselves and to all the flock, among which the Holy Spirit has made you overseers" src="http://raisingstickyhands.com/wp-content/uploads/2013/08/Acts-20-28a-NKJV-Therefore-take-heed-to-yourselves-and-to-all-the-flock-among-which-the-Holy-Spirit-has-made-you-overseers.jpg" width="391" height="250" srcset="http://raisingstickyhands.com/wp-content/uploads/2013/08/Acts-20-28a-NKJV-Therefore-take-heed-to-yourselves-and-to-all-the-flock-among-which-the-Holy-Spirit-has-made-you-overseers.jpg 391w, http://raisingstickyhands.com/wp-content/uploads/2013/08/Acts-20-28a-NKJV-Therefore-take-heed-to-yourselves-and-to-all-the-flock-among-which-the-Holy-Spirit-has-made-you-overseers-300x191.jpg 300w" sizes="(max-width: 391px) 100vw, 391px" />
Hours later, when the papers were dry, we peeled off the dry tissue paper. Immediately Tommy noticed that there were both the "good" and "bad" colors on "him". I made sure to point out that there were some parts where the blue was covered by red, so much so that the blue was very faded. The same goes for us, that when we have been influenced in a way that is not healthy, we can change our path and "fade out" the bad. Then Tommy taught me a lesson, "Mama, the paper can also be the earf (earth), and I want my influence on it to be good." I think it's safe to say, this crafty lesson was a success!
Just in case you were wondering, I did choose the colors red and blue for a reason. Our home has a patriotic decor of red, white, and blue. Right now we are redecorating our entry way and hall way. Not only will these creations make great "art pieces" to hang on display, but they will be a reminder to our family as we head out the door to not only be cautious of others, but especially ourselves. (The semi star shape was total accident, how cool is that?)
So, what do you think? Like the idea of crafty lessons? Does it sound too complicated to you, or have you actually done some yourself?
Be sure to visit the other 90 bloggers on the Schoolhouse Review Crew participating in this blog hop by clicking the image below. Thanks for stopping by!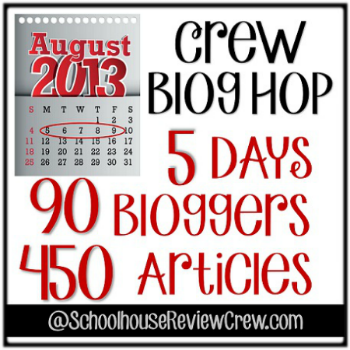 Psst… Don't forget to head over and enter the Back To Homeschool giveaway and enter for your chance to win!