I must admit, I was skeptical. In the 4 years of homeschooling preschoolers that our family has accomplished, we have owned & checked out many books from Gryphon House . Don't get me wrong, we LOVE everything this company puts out. But a book on homeschooling? I wasn't so sure. Yet here I am, eating crow, because The Homegrown Preschooler: Teaching Your Kids in the Places They Live has gone above and beyond my expectations on what any book on homeschooling preschoolers should be.

Written by two homeschool moms, Kathy Lee & Lesli Richards, this book explains every bit of what it is like to homeschool a young child in every circumstance. Full of tips, recipes for meals, recipes for creative play and art, an amazing amount of ideas and activities, and timeless advice this book is the source that every mother that is homeschooling a preschooler, veteran or rookie, could use. Connecting with the authors comes right off the bat in the first few pages as they explain why they decided to homeschool and how much they love teaching their children at home. Kathy, a woman who studied early childhood development and had a career in the same category, states how much she loves seeing her child experience "aha moments". Lesli explains how she learned that you don't have to be perfect to homeschool. I couldn't agree with both of the authors more.
The entire book is filled with a variety of sections. From child development to how to build your own sensory table, it covers it all. There is even a chapter on homeschooling your special needs preschooler, which was timely for me personally. There is even a section on adopting a preschooler! At the end of the book are checklists, a form for lesson planning, and plans to build helpful furniture for your own homeschool.
The first part of the book covers all the tips, evaluations, routines, development, ways of handing different situations, and more. The second part of the book is the fun: The activities, lessons, crafts, and ways to help your child learn.
The chapters of this book are as follows:
Introduction: Our Journeys To Growing Our Children At Home
Homeschooling – Harvesting A Bountiful Life
Learning Through Play
Sowing The Seeds – Preschool Learning
Setting The Stage
Home Life = Learning – Slow Down And Teach
Who Has Time For This?
Organizing It All
Days And Season That Don't Fit In The Box
Special Circumstances
Activities

 Home life
 Science
 Gross Motor
 Fine Motor
 Math
 Language Arts
 Art
 Social – Emotional
The book also includes an appendix and index at the end.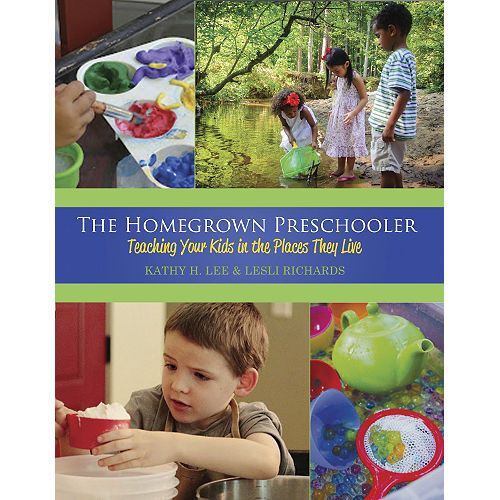 For me, personally, I didn't expect to learn as much as I have from this book. I thought that in my 4 years of homeschooling a preschooler that I knew all there was to know. I've read countless books, articles, and blogs. However, there were apparently many things I did not know. In my life I have never taken so many notes, underlined, highlighted, applied sticky notes, etc. in one book. Not even in college. I'm excited to state that our new homeschool year for 2013 – 2014 is going to look very differently than in previous years thanks to this book. For our Summer school, I have had the little ones follow most of the activities listed in this book such as dramatic play, hands on learning, constructive play, & playing with a purpose.
With the advice for busy moms, making goals, organizing it all, recipes, and more, my outlook and approach has improved. The book reminds me a lot of the Montessori approach, but is also different in it's own way as it has a more relaxed way of going about it.
One of the many fun things we've done in our home are the busy bags and bins as suggested in The Homegrown Preschooler. Some for home, some for on the go. My little girl, only 2, now helps more with household chores and is learning all at the same time. My autistic son is loving the sensory ideas and our family is excited for my husband to build him the light and sensory tables as described in the appendix of the book. (Great for children without special needs, as well!) I will likely never buy "doughs" for play or bubbles again, as there are many recipes for different types that are so much fun, easy to make, and cost much less! Our outdoor play is more organized and fun. I could go on and on…
There is no specific or right way to use this book. Each day in our home is different. But The Homegrown Preschooler is now used daily in our homeschool, sitting on top of my daily planning binder for helping me plan my days. I am asked often by new homeschoolers on how to do preschool at home. From now on, I will be recommending this book. Every new (and veteran) homeschool-preschool mom should read this. It literally covers everything you can imagine.
I do want to mention one thing specifically: I have been ill this summer with a rare blood clot in a strange part of my body. This book covers homeschooling in difficult seasons of life. It has really helped me in how I approach each day while dealing with an illness and impaired from going about our days in the way we usually do. The book has also suggested how to help my children handle it all. Perfect for what we are going through right now, and has made quite the difference. Instead of sitting around whining about how we are not getting it all just right like we usually do, we are doing what we need to do. We are just going about it at a different routine.
The price of The Homegrown Preschooler: Teaching Your Kids in the Places They Live is $29.95.
Want to read what others thought of The Homegrown Preschooler and another Gryphon House book, Global Art? Click to read more reviews from the Schoolhouse Review Crew.