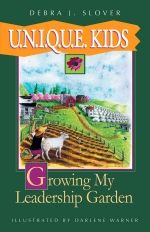 As parents, we all have a desire for our children to stand out and be natural born leaders.  As anyone who's been tasked with shaping a young person knows, it's not as simple as "just add water". Providing a child with the skill set and ability to use it can be a challenge.  Enter Leadership Garden Legacy with  U.N.I.Q.U.E., by Deborah J. Slover.  We were sent a thoughtful and well put together kit, designed to pass important leadership tools to not only children, ages 5 to 12, but their older siblings and parents as well.
The book, U.N.I.Q.U.E Kids: Growing My Leadership Garden ($18.95) follows the story of a little lamb named Hugh as he wanders on to Leadership Farm. There he learns the values of leadership, how life choices he made could have turned things around had he handled them differently, and how to move forward in a more wholesome positive way. The book is full of metaphors, obviously stemming from the Leadership Garden theme, to help teach children life skills such as "Be nonjudgemental, Do not enable, Use empathy, Prune gossip, Eliminate blame, & Eradicate victimization" by following the story of Hugh. Our family completely agrees that these are all qualities that are extremely important. The only issue we had with this was that not only did Tommy really not get that the story was telling him that, but my husband and I both had to sit down and look over the materials and really scratch our heads to try and figure out how the story was relaying that, exactly. It's really not an easy story to follow along with for an adult, so we had to stop every few minutes and explain what the story was trying to say to Tommy.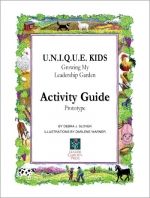 The U.N.I.Q.U.E. Kids Activity Guide ($8.95) follows along with the book, not only repeating the study questions at the end of each chapter, but suggesting activities that might be beneficial to learn along with the study. Some are directly related, some merely followed the theme of gardening and embraced another subject all together. Also listed in the guide were Common Core Alignments should that be something your family is interested in for your homeschool. While some sections of this guide made it easier for Tommy to understand what was just read to him, others made it even more confusing.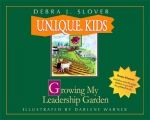 Finally, in the Children's series, is the U.N.I.Q.U.E. Kids Audio Book – MP3 Download ( $8.95). I actually found this product extremely useful, and have since decided audio books are awesome for Tommy… Why didn't I think of that before? The reader's voice is friendly and easy to listen to. Each page has the little "ding" to tell you to turn the page as I remember they did when I was a kid. Tommy was able to guide his own reading and feel more independent even though I was within a few feet of him at all times.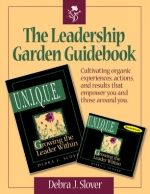 Also included in the Family Tool Kit we received was the adult version of the book titled U.N.I.Q.U.E.: Growing The Leader Within ($18.95) and The Leadership Garden Guidebook ($18.95). The book is actually a more detailed version of the children's book while also taking breaks to tell the author's life story. The guidebook follows along with the book going through more reading and having you do written activities As with the children's products, I was very excited to receive and try these items out for myself as I've always wanted to develop my leadership skills more. However, both the book and guidebook seemed off topic to me and had a difficult time keeping my interest peaked. I'm not saying they don't have a purpose, however I'm not quite sure what the label for it would be. Leadership just wouldn't be my first thought.
I honestly believe this is one of those types of products that many people love and it works for them, but our family is just too quirky for. We wanted so badly for it to work out, but our learning styles being different than many other families' plays a part in here as well. (So please, if this is something that sounds like you might like, feel free to visit the website and reviews and don't just go based on how it worked for the Schotts. That being said, because this is a Christian blog, I want to mention that this leadership curriculum is not Bible based. I'm not saying that's a bad thing, I just don't want you to assume it is as that is what you usually find on this site.)
Leadership Garden Legacy is offering a Spring Special Discount of 20% to all TOS Review Crew readers! To participate, enter promo code TOS-SS20D upon checkout. This is a limited time offer and the code will expire on May 31, 2013. In addition, they offer some discounted Tool – Bundle packages as well… And guess what! The code even works on them! What a great deal!
Click to read more reviews from the Schoolhouse Review Crew