Since we made the decision to homeschool a few years ago, the name "Apologia" has been everywhere. I still remember the first time I went to Apologia Educational Ministries website and the excitement that came over me. Biblical creation based science and perspective, weaved with scripture and hands on learning! My husband and I decided then that when our children were old enough, this would be the company we would turn to.

Recently, we were blessed with the opportunity to review Exploring Creation with Zoology 1: Flying Creatures of The Fifth Day textbook & Junior Notebooking Journal from the Young Explorers series that Apologia offers for grades K-6. I'm not exaggerating when I tell you that I broke into laughter, screamed, jumped up and down, and did a little dance when I found out this was on it's way to our home. Did I mention we had company over for dinner? Yeah. But I'm not only a nerdy book loving homeschool mom, I'm also a science geek. So it was like Christmas came early for this girl, and I felt the need to rejoice.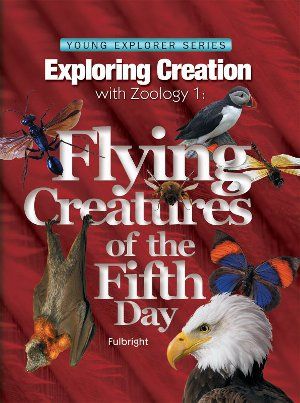 Flying Creatures of The Fifth Day covers exactly just that. ALL flying creatures, not just birds. Bats, flying reptiles, Beetles, and insects are included here as well. Using a Charlotte Mason-esque approach of learning, the study covers 14 chapters beginning with a lesson in what Zoology is and all about classification. From there it dives right into birds and flows through the rest of the topics. Each chapter has key points such as Try This!, Mid-Lesson Break, Mid-Lesson Experiment, What Do You Remember?, and ends with a project. The pages are easy to read and have stunning photos. Also included in the textbook is a link and password for more information on the lessons available on Apologia's website. (This is an awesome feature that I suggest no one who owns these books bypass.)
The Junior Notebooking Journal (suggested for early elementary) is really a nice addition to have, but not necessary to complete the lessons in the textbook. For me, I'd rather have the Junior Notebooking Journal as it is well organized, takes a lot of guesswork out of things, and you're not printing out a lot of pages for each lesson. For example, listed in Junior Notebooking Journal is a suggested lesson plan that would have you cover each lesson (chapter) over the course of 2 weeks by working on it 2 days each week. It also contains coloring sheets, copy work (both manuscript & cursive), scientific speculation sheets, mini lapbooks and other worksheets. All pages are in black and white and are easily understood as to how to use them.
My husband and I fell in love with this curriculum. It relates everything the way we would teach it ourselves if we had the time to sit down and write it all out. And being that the style of teaching was mostly narration was a big plus since that's what we love. However, we quickly realized that a big chunk of each lesson was a bit too much for a Kindergartener to grasp. Understanding that the Young Explorers series is meant to be for grades Kindergarten through 6th, we expected some things to be a bit difficult. Yet we found early on that it was going to be pretty challenging to really do each lesson without sometimes teaching half of it. None the less, we persevered and continued on. Tommy would color while I read the reading for the day. Some days it flew (no pun intended) right over his head, and others did not. Weeks later he's still talking to anyone who will listen, including strangers, about lift and drag, extinction, habitats, etc. so he definitely absorbed quite a bit. For the worksheets he would dictate to me what to write if it was too much for his little hands to do. We quickly adapted 3-4 days a week instead of 2 and found it to be much easier. By taking more time to read ahead the night before, discussing the best ways to explain the lesson to his eager little mind, we were also given an advantage. Experiments? Well those were easy. He LOVED the experiments…
We plan to continue on and finish the books with our little improvisations. We may take it even a bit more slower, though, and do some other science activities in between lessons. If in a few weeks it gets to be too much, then we'll set it to the side and come back to it later. Right now it is working, though. And when he is older, if it makes sense at the time, we'll come back and do it all again with the Notebooking Journal (not Junior, for older children. Not reviewed in this post.) and let him find the things he missed before.
If Biblical Creation based science is important to you and your kids love hands on learning, then I would say this is definitely recommended as something you should try. But if your early elementary child is not yet writing very well and unable to listen for more than a few minutes at a time, I would wait a year or so before beginning.
The price of each item is as follows. By clicking on the links, you will find full product descriptions, sample pages, and table of contents.
Exploring Creation with Zoology 1 textbook: $39
Exploring Creation with Zoology 1 Junior Notebooking Journal: $24
Exploring Creation with Zoology 1 Notebooking Journal (Not reviewed in this post!): $24
Other items you will need are basic items such as paper, crayons, & pencils. But keep in mind, you will also need to buy various products for the science experiments. So, if you are budgeting your costs before you purchase, I would suggest to look up the lab list linked on the textbook webpage.
I truly hope that you have found this review helpful. If you'd like to read how other homeschoolers felt about these books and others in the Young Explorers series, then click on the banner below.

Disclaimer:  I received a free copy of this product through the Schoolhouse Review Crew in exchange for my honest review. I was not required to write a positive review nor was I compensated in any other way. All opinions I have expressed are my own or those of my family. I am disclosing this in accordance with the FTC Regulations.