*This post may contain affiliate links.
Today is day 4 in our 5 Days of Crafty Lessons series in the 5 Day Summer Blog Hop with the Schoolhouse Review crew. Don't forget to read Days 1, 2, & 3 in our series as well!
This crafty lesson is a super easy one to do with your little one to help them understand addition. It doesn't take much set up or clean up, and can be done in a few minutes or can be made longer to last over the course of a few days.
To complete this craft, you will need the following supplies:
I began with this crafty lesson by writing "1" on a piece of felt with glitter glue. I then asked Tommy to find 1 foam sticker to put on the felt sheet. Once his 1 sticker was on the sheet, I then wrote "+2=" on the felt. Now I had him find 2 foam stickers and he applied them to the felt. I then pointed to the "1" sticker and the "2" stickers and said "1 + 2 =" and he counted up the stickers and exclaimed "3"! Sure, it came easily the first few rounds as we counted up to "8 + 2 =" before his little brother and sister woke up from nap, but the higher the numbers got the more he had to count, which is good for him. This was a good exercise to help him with his addition skills.
Once it was all done, and the sheets were all lined up, he informed me that he will be making a book out of his creations to help teach his little sister about adding numbers. I gotta tell 'ya, that melted my heart.
Come back tomorrow for the 5th day of our 5 days of Crafty Lessons! I'll be sharing a list of great, low priced supplies to keep on hand for use in crafty lessons.
What would you do with the felt sheets once the crafty lesson was completed? Do like Tommy plans to and make a book, or would you do something else? Maybe include them in a busy bag or quiet book? I'd love to know!
Be sure to visit the other 90 bloggers on the Schoolhouse Review Crew participating in this blog hop by clicking the image below. Thanks for stopping by!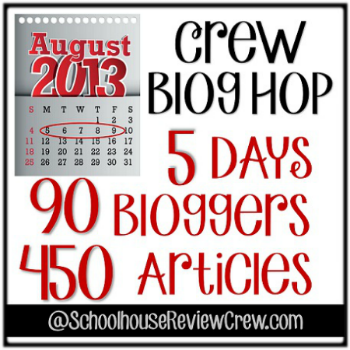 Psst… Don't forget to head over and enter the Back To Homeschool giveaway and enter for your chance to win!