Ever go grocery shopping, feeling confident that you had found some great deals, only to be shocked by what the cash register is asking you to hand over? Same here. That's why I was elated to be given the opportunity to review the book Couponing Made Simple by Christi The Couponing Coach.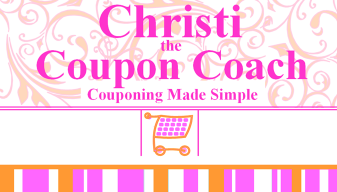 I had tried couponing in the past, but honestly it stressed me out. I spent hours trying to figure out what was worth clipping, trying to remember what I clipped, and then fumbling through the grocery store only to arrive home and realize I forgot to hand the cashier a coupon or became so stressed out that I didn't use them at all. I kept pushing through, but when my husband had to take over grocery shopping for a short time after I had my last baby and refused to take coupons, I just got out of the habit.
Fast forward to a few months ago: We decided to take the plunge and become a cash only family. I'll be honest and tell you it has been more than a challenge at times. But thanks to Couponing Made Simple, I have found a way to make it much easier.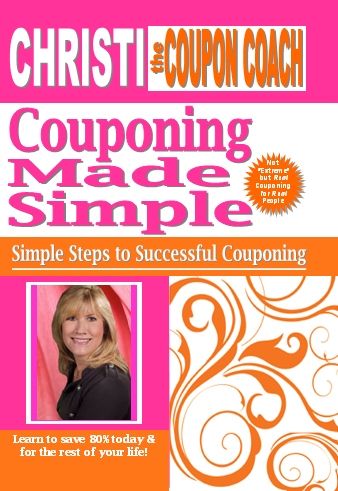 Christi's book goes over ways to save while not cheating the system. Stacking coupons with items already on sale along with an easy way to keep it all organized that isn't head ache inducing. The chapters are as follows:
Success Stories
A New Way to Shop
The Language of Couponing
Organization System
Step-by-Step Process
Tips & Tools
Couponing Ethics
Networking & Communicating
Bonus Section
Beyond Couponing
Christi goes into great detail in her book to explain how and where to find coupons, building a habit of looking for deals without it being a chore, and how to keep it all organized. She even explains how online forums for couponing work and the lingo!
I was able to read Couponing Made Simple in just a few hours split between 2 nights before bed. This book made me excited to grocery shop! I could hardly wait for the weekly coupons to come in the mail and even set an alert on my husband's phone to remind him to pick up newspapers on Sunday mornings just in case I was unable to. He, of course, was skeptical and set two rules:
No Stockpiling
Only buy items we would normally use
The stockpiling rule bummed me out. As Christi states in her book, this isn't about buying multitudes of items like they do in the reality shows, but hey, who doesn't want to stock up on a few things when they are at a low price? However, striving to be a more submissive wife, I obliged.  Bobby also made a good point that we just don't have the room in our home to contain more than what we are currently consuming.
After following her plan of looking, clipping, and organizing I set out on my first grocery trip. It all went so smoothly and I was so ecstatic to see I saved $80! I was apparently too happy though, as I now don't remember what the total was or take a photo of how much we bought. But I can promise you, it was a LOT! My second trip, however, I remembered to track it all. This was a "quick" trip to the grocery store to get some easily made (mostly processed, not our usual fare) meals to help our family survive while we are beating the flu. Before I headed out, I scanned the coupons I had and made a list. My son and I were in and out of the store in 30 minutes and had bought quite a bit. The savings was 19%. Not bad for an unplanned trip!
Overall, I recommend reading this book if you are interested in saving money for your family and the idea of couponing overwhelms you. It truly does what the title says and makes it simple!
Christi The Coupon Coach's book Couponing Made Simple is available in paperback for $18.00 or you can purchase her Kindle version for $4.99.
Want to hear what others have to say? Click to read more reviews from the Schoolhouse Review Crew.