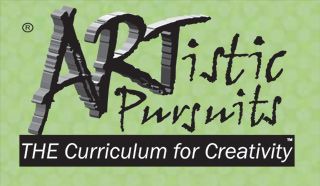 For a little over a month our family has been using ARTisitic Pursuits for our art curriculum. We were given Early Elementary K-3 Book One: Introduction to the Visual Arts to review for all of you fabulous readers out there. Today, I'm going to tell you all about it!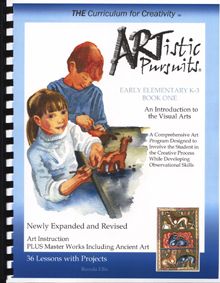 The intention of this lesson book is to teach children in a simple way the visual arts. Divided into 3 themed sections, What Artists Do, What Artists See, & Where We Find Art, children are introduced into actual classic art work and learn to pay attention to the details of how they were created and how to imagine what the artist may have been thinking or wanting you to see. In the process of learning these perspectives, they are taught how to do the same by using fun activities to create art of their own.
Looking over the curriculum initially, I was concerned. I wasn't quite sure how Tommy would receive it. I mean, classic art and how to create it for Kindergarten? Cool, yes. But realistic?
However, once again, I ate crow. He took right to it!  The format of the lessons, meant to be done weekly, is to read together a little about some classic art, and then to create your own. While the reading segment is thorough, it's not so much that it goes over my Kindergartener's head. He was able to understand everything and learn exactly what the lesson was trying to convey. He has even asked to learn more about some of the artists and has done more lessons than expected because he wants to work on it during play time, not just during "school time." Some lessons he has asked to repeat even. What mother would argue with that? I love that it has sparked his interest in art, and it's really neat to see how he  uses his imagination to complete his work.
So far he has used watercolor crayons, ebony pencils, and soft pastels. Because the manual has me teach him how to use the materials properly through word and picture, he has a good grasp on how to be an artist himself. The result is gained confidence in addition to knowing how to create art of his own. By reading about a piece of classic artwork before his own project, he is also learning about the artists, eras, and techniques used by different artists at the time the pieces were created.
In a nutshell, I am pleasantly surprised and adore this curriculum! My son has learned so much and has a desire to do art in a different way than he ever has before. His ambition to hear more about the artist and ask me questions to the point of my having to go to google to look up more information on them is really exciting. I love that he has been inspired.
The ARTistic Pursuits, Early Elementary K-3 Book One Introduction to the Visual Arts book is $47.95. It is a spiral bound book printed in, what in what my opinion is, high quality ink on heavier than normal paper. The pictures are very clear and detailed. You could never notice the details in the art that you see on page if were you just looking at them on the computer.
The list of needed materials isn't too long. Each item is definitely needed for each lesson so you can't really skimp in this area. All of the materials can be bought either in packages on the ARTistic Pursuits website or piece by piece as needed depending on your budget. Take note, some items will be difficult to find at your local craft stores. We were surprised when we could not find watercolor crayons at ANY of the craft stores in Southern California. Thankfully, we were able to find them on Amazon and had them in no time. Pay attention to the quality of items if you decide not to buy name brand. For a few of the items we were able to buy an off-brand, but for some I chose to use the more expensive choice for the sake of the lessons being done correctly. But once again, that's just my opinion. 😉
Other books available in this series are:

Would you like to see how this curriculum, along with other books in the series, worked for others? Click here or on the banner below to find more reviews by other members on the Schoolhouse Review Crew!