Do you have a young baby, toddler, or preschooler and want to begin working with them? Not necessarily "school", per se, but educational activities that help them thrive and learn? Maybe you have older children, and the little ones want to have something of their own to do. Problem is, coming up with the curricula that would be flexible and beneficial with little stress would be a silly dream…  Well, maybe before, like when I started homeschooling a few years ago, but not now!
Let me introduce you to Flowering Baby, LLC, a curriculum company founded by a Mother and Daughter for ages birth through five that has taken the time to do the research, make the lessons fun, and package it all up so that all you have to do is run to the library and pick up a few books… Because most likely you have everything else on hand! Everything is in PDF format on a CD that will work on your computer regardless of it's a Windows or Mac, and it is SO easy to follow. No having to read and re-read the instructions here!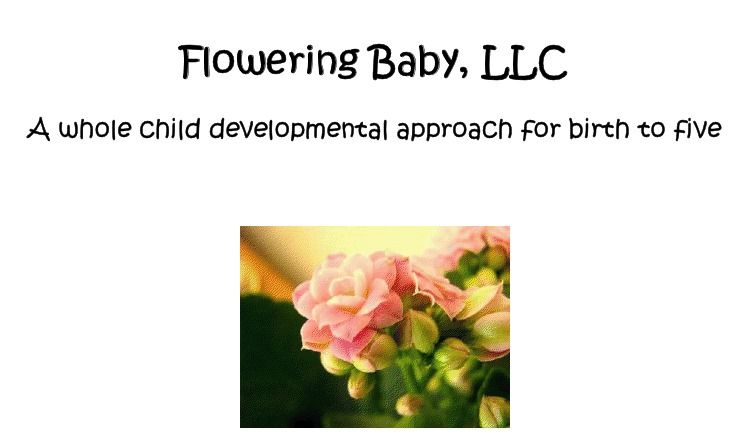 The sections are divided up first by years, and then by month. For Birth through Three, it is by age. For Three through Five, it is by calendar month. Also, years Three to Four and Four to Five have a monthly schedule that is accompanied by a list of themes from which you pick 2 for each month. See how little time you have to put into it? It's already all put together for you!
To give you an idea of how the years are split up, I've listed their names with a link attached. If you click on the link and scroll down to the bottom of each page, you'll be able to see a sample of that year. I've also included their prices below: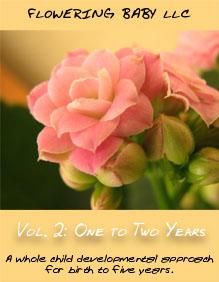 For our family, we used year One to Two starting in the 19th month with my youngest child, Molly. I had intended to include my second to youngest, Johnny Ben, in this set also. He is 3 1/2 with developmental delays that we are in the process of having assessed and evaluated. While he participated to some degree, he really didn't follow along, so I will only share how it worked with Molly.
Starting out was way too easy. The author lists a set of books (she states you may be flexible and choose a similar book if you don't own the title or are unable to find it at a library), music, and supplies you will need for the month. For the first month we needed 3 books, a total of 6 supplies, and music by Tchaikovsky. The only supply I had to buy was some dry beans. I was able to use Pandora for the music, and we just so happened to already have the books. (I'm a book hoarder… Shhh…)
I never had a set time to complete our lessons. If a moment was available while doing school with my Kindergartener, Tommy, and Molly was interrupting then I would have Tommy work on something he could do solo and do Molly's "school" with her. A few times we waited until after dinner to help wind down the night. A few mornings we did it right off the bat, and the rest of the times we did it right after lunch or nap. Naturally, there were some days that it just didn't happen, but that's okay. The curriculum is set up so that it is not done every single day of the month. So if we missed a day, we just picked up where we left off the day before. It is EXTREMELY flexible.
Most days the lessons were short and sweet, being completed in about 30 minutes. Reading a book or stating a poem/nursery rhyme and looking at pictures while listening to music. There were lessons that had us focus on speech by talking and saying words to each other. On some days, motor skills like walking on a curb or throwing a ball were covered. There were nights we all danced together. Every day is different from the day before or the day after, but kept simple and right on their level. I think Molly's favorite was the day she was Mommy and I was the baby. Blame her? 😉 Tommy also enjoyed it, and invited himself to join in on just about every single lesson. Molly loved that, it made her feel like a "big kid."
And yes, of course, there are a few messy lessons… I feel like I should include that note… Because if you're like me, you hate messes and messy lessons. But you know what? I couldn't resist. The activity sounded fun. And being that I was raised in one of those "no play-doh, no markers, and definitely no paint" homes, I decided I should give my children something I didn't have. (Pardon the messy video editing, this was the first time I've ever done it!)
All in all, I have to say I LOVE Flowering Baby. Being so busy it takes out so much guess-work and makes teaching easy and learning fun. Besides, while I'm a homeschooling mom, I am in no way an expert on child development. Having a curriculum that was designed with whole child development in mind put me at ease to not feel at all like I was forgetting something that she needed. If you are looking for something for your littles, I would recommend Flowering Baby. (Sticky) hands down.
Interested in purchasing a copy of your own? Flowering Baby is offering a 10% discount to our readers when they use the  code "Blog10" when ordering.
Disclaimer:  I received a free copy of this product through the Schoolhouse Review Crew in exchange for my honest review. I was not required to write a positive review nor was I compensated in any other way. All opinions I have expressed are my own or those of my family. I am disclosing this in accordance with the FTC Regulations.
Would you like to see what others thought of Flowering Baby? Maybe see some reviews of the other years available? Head on over to SchoolhouseReviewCrew.com to find more!