You may have heard of this trend, as many bloggers have taken part. Picking one word to be who/what they'd like to become/represent for the year 2013. Not a resolution, but a goal, whether it be for change or growth. I've read many "words" this year and last, and found many to be inspiring.
So, yes, I jumped on the bandwagon. This seems like my cup o' tea… or thermos of coffee… and I need a word desperately.
(Stop laughing! I mean it! Everyone knows I talk a lot… and every chance I get. But really, this time, I'm only picking ONE word!)
I put a lot of prayer and thought into my word, and I believe God has been trying to get this word into my thick skull for awhile. The difference now is that I was sitting quietly, listening to Him, and :gasp: not distracted. (Shocking, I know.)
So without further ado, here is my one word:
You see, I have this little itty bitty HUGE problem of people pleasing. I want everyone to be happy, and sometimes put that over making GOD happy. Naturally, others are let down in the process and in the end: no one is happy. Not me, not the people, not my family, and especially not Christ.
This year, I only want to please and hold my accountability to the Lord. No one and nothing else. Just Him. I want to live accountable to His Word, His Will, and His Lead. When I do that, I know that everything else will fall into place. And I do mean EVERYTHING!
Already, just a few days into the year, I am facing many changes and challenges. I plan to apply Romans 14:12 to each and every circumstance: So then each of us shall give account of himself to God.
Someday, I'm going to stand before my Lord and Savior. I want to hear Him say "Well done!" with the biggest and most beautiful smile I've ever seen. Soon, I'll drop that title of "People Pleaser" and replace it with "Jesus Pleaser". (Though I'll still be human, so grant me some grace, please. 😉 )
Have you chosen One Word for your year? If so, please leave a comment or link to your blog post! Please and thank you.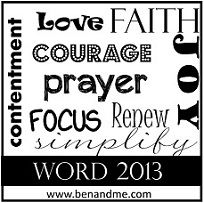 This post is part of the WORD 2013 Blog Carnival hosted by Ben and Me.
Click the button above to see more posts!